Main & Lake has discovered a swingers' sex club in the New Carlisle area. Located on Gerlaugh Road, the club has advertised events on YouTube under the channel name "Ohio Swings."
***EDITOR'S WARNING: SOME PARTS OF THIS ARTICLE INCLUDE LANGUAGE THAT IS SEXUAL IN NATURE AND IS RECOMMENDED FOR ADULTS ONLY. DISCRETION IS ADVISED.***
New Carlisle is a quiet little town, filled with nice people and good, small town values. We now have more churches than pizza places and Speedways combined. I'm sure it will surprise many of you that something like this – giant parties full of folks doing the horizontal hula – could be occurring right under our noses.
A YouTube search for "New Carlisle, Ohio" turns up hundreds of videos, most of them real estate listings or cars for sale. But if you filter the search to include the most recent uploads, a couple of videos from Ohio Swings show up.
The video's description reads:
St. Patty's Party!!! Cum One Cum All~ EPP PARTY PLACE
Party Starts: Saturday, March 12th 2016 at 8:00pm
Event Description: Celebrate the evening wearing something sexy and green…….Drink some green cocktails and enjoy the luck of the Irish with friends and dance and listen to music.
12225 Gerlaugh Rd, New Carlisle, Ohio 45344
Each video and the channel itself include this message:
We offer a social area with plenty of tables and chairs, a clean atmosphere. Come enjoy our comfy chairs and couches while watching XXX movies on our 55" TV, large dance floor, dart board, even play a game of pool, finger food and snacks, we provide the soda you provide the BOOZE (BYOB) and a music system with our DJ taking your song requests.
As M&L investigated further, we found that a website also exists. Under the "About" section of Ohioswings.com, it says:
The Erotic Party Place is a private, invitation only party place that caters to couples and singles 21 and over who want to explore their sexual limits. In most ways, we are like most other private, lifestyle (or swinger) clubs. These are private house parties, which we offer all the same amenities that most swingers clubs offer.
The site also features a list of events that are described as "private" and "invitation only." Some of the past events were called:
Blow It Suck It Stack It Yank It Blow Harder
S & M Fetish Night
Sexy Nighty Night
Fire and Ice
Toga Party
NEW YEARS EVE FUCK FEST
Santa'S HOe HOe'S and Elves
Save A Horse Ride A Cowboy
The FAQ section of the site includes tons of information about the club. They explain that there is no entry fee, but donations are encouraged and accepted. They also state that sexual activities are allowed (with consent) and that that's what the club is all about. Alcohol is not served; they recommend BYOB (bring your own bottle).
(Click to enlarge photo)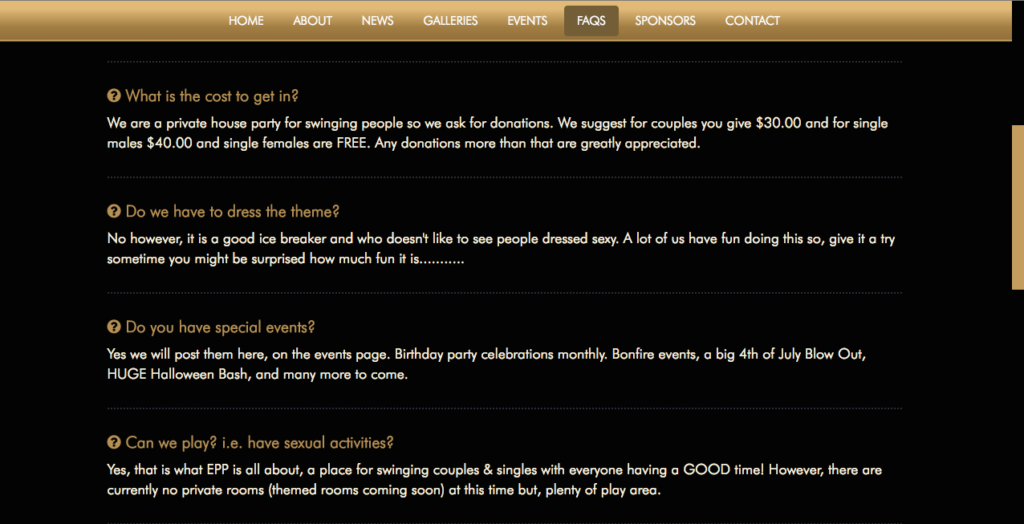 So what does this mean for New Carlisle? There's nothing illegal about clubs like this. But just because it's legal doesn't mean it's right and it sure doesn't mean we want it in our backyard. Apparently it's legal to kill a beloved gorilla in the zoo, doesn't mean it should be done. Abortions are legal, too, but that doesn't mean people should be throwing costumed and themed abortion parties.
In this writer's opinion, it is concerning that a simple search for "New Carlisle, Ohio" can turn up a video that seems to invite any and all comers to a raucous night of shaking the sheets. What if a kid, just trying to find a video for a school project or learn a little town history, stumbled on this video and rode their bike over to the address listed? How am I supposed to explain that to my child? It doesn't say anything about children not being allowed or being private. It literally says "Come Visit us!" and "Be there!"
I like to think my town is a good place with morals, not a den of sin where people gather and engage in decadent sessions of dipping the wick.
If the event history on the site is accurate, this club has operated for over a year so far. Sure, it's been quiet up until now. But I, for one, am not willing to ignore it until it takes over New Carlisle.
What do you think? Should sex clubs be allowed to operate in or around New Carlisle? Sound off in the comments to let your opinion be known.