For such a little town, New Carlisle seems like a metropolis when it comes to social media use. With so many residents of the past, present and future trying to connect with one another it can be difficult to find the page that best suits your needs. Below, you will find a list and description of each Facebook group available to YOU, the valued citizens of New Carlisle and surrounding areas!
Membership: 9,982
Admins: David McWhorter, Larry Collier, April Lowrey
This page is the grandaddy of them all. Originally created to showcase historic photographs of New Carlisle and discussions about local events, this page has evolved into THE place for any and all content focused on New Carlisle. News, history, lost pets, Paul, politics, memes, advertising, arguments and photography are just some of the things you will find here.
Pros:
The massive membership is a huge benefit of this page. If you are looking for an audience for your post or comment, there is no better place to find one at this time. Another great thing about this page is the large number of regular posters who showcase historical pictures, news clippings and videos about our little town.
Cons: 
The admins of this page are very quick to delete posts and comments that they deem inappropriate. Sometimes this is understandable; from time to time conversations can become very heated and aggressive, even threatening. However, there have been many instances of posts being deleted simply because they did not fit the agenda of moderators or because members reported them for personal reasons. Local photographers are no longer allowed to post their work unless the photo includes a recognizable New Carlisle landmark. The mayor's wife is also an admin of this page.
Join if you:
Enjoy historical posts and taking a leisurely stroll down memory lane, enjoy connecting with a large number of people from the area, or enjoy seeing cell phone pictures of the diverse wildlife running loose in town.
Membership: 1,806
Admins: Luke Putterbaugh, Dustin Brubaker
This is a relatively new – but fast growing – page that markets itself as "the Wild West" of New Carlisle Facebook groups. The admins have stated that NO post or comment will be deleted, no matter who complains. Therefore the only way a post can be removed from this group is if the original poster chooses to or Facebook deems it a violation of its policies.
Pros: 
The ultimate free speech forum for New Carlisle. Members are not only allowed to speak their minds openly, they are encouraged. As yet, all types of posts are welcome, including photography, advertising for local businesses, news, lost pets, and, of course, Paul.
Cons: 
The membership is still small compared to the popular Facebook page You Know You're From New Carlisle If…, but it has grown by over 300 members in the past 7 days. The discussions can be intense for those who are easily offended.
Join if you:
Want to have real discussions without fear of your posts or comments being deleted, want to post something that is discouraged by the first page mentioned, want admins who are transparent with their page policies and don't demonstrate any bias for or against anyone.
Membership: 456
Admins: unknown
As the title suggests, this page is dedicated to Paul, New Carlisle's most controversial figure.
Pros: 
This page gives people a place to talk about how to help Paul and what to do to keep Paul and everyone else safe.
Cons: 
Kind of a boring page unless you're really into Paul.
Join if you:
Want to help Paul or offer support in some way.
Membership: 1,362
Admin: David McWhorter
NCHS is a page solely dedicated to posts about the history of the city. News articles, rare photographs and videos of New Carlisle's past populate this page.
Pros: 
This page is great for learning about the city, reminiscing about the good old days, and just taking a walk down memory lane. The admin and contributors have curated some truly impressive information and have been kind enough to share it with all of us.
Cons:
This page isn't necessarily designed to be a discussion-based group. You won't find anything besides posts focusing on the history of the town. If drama is your thing, keep away.
Join if you:
Love or are interested in learning about New Carlisle's past, want to relive your youth through pictures and news articles, enjoy sepia-toned scans of photographs, yearn for a time when men were named Roy or Dick or Fred and women were named Barbara or Nancy or Sylvia.
Membership: 1,896
Admins: Hope Kuruzovich, Thomas Salters
Per the page's description: This group is an unbiased page, unlike the other one. Here you can speak your mind and share what is happening in OUR town. Spread the word, tell your friends! This group is here to help people to know what is going on in our community, past and present. Post that will be deleted include, any with derogatory comments toward someone, photos that have nothing to do with Park Layne, items for sale -these should be posted in the Rummage Sale page. Suggestions to make this page more enjoyable for everyone, if you post a missing animal, please go back and delete your post when the animal returns home, same goes for garage sale posts, please delete after the sale is over. Business advertising is acceptable, as long as it's local, and kept to an occasional ad.
Pros: 
Discussions seem to be more civil than some other pages. The page is more focused on Park Layne specifically, rather than New Carlisle as a whole. with close to 2,000 members, the page is fairly active.
Cons:
Limited since the page is only Park Layne focused.
Join if you:
Have an interest in Park Layne, dislike or would like to avoid interacting with New Carlisle people, don't care about issues such as New Carlisle city council elections or New Carlisle income tax changes.
Membership: 1,194
Admins: Jamie Grafton, LaTisha Fay
From the page's description: Crystal Lakes, OH. A little slice of Heaven. This page was created for any and all things that pertain to the lakes . . . Events, voulunteering, and most importantly the memories.
Please remember we are all Adults here so we will act like Adults!
Pros: 
If you live in Crystal Lakes, this is probably the most helpful Facebook community out there. Questions and concerns residents have are welcomed and people seem to try their best to help one another through this page. There is also a decent following considering the page is specifically for Crystal Lakes and not the rest of the surrounding area. This page has a neat cover photo.
Cons: 
Like the Park Layne page, this group has limited appeal due to its heavy focus on the Lakes. Threads rarely reach more than 10 comments.
Join if you:
Live in or are interested in Crystal Lakes, want to experience a neighborly page where people help people, mistakenly thought this place was the setting of the Friday the 13th horror films.
Members: 1,850
Admins: Anne Slygh, Nancy Daily
From the page's description: A place to Keep In touch with Friends from New Carlisle, Park Layne
also New Carlisle and surrounding Lost and Found animals ,Shelter dogs and cats are encouraged: Discussion of any thing you want But NO Drama it will be deleted and banned.If you lost a animal feel free to post where lost Phone# Picture Same with Found must have a contact other then FB.Neuter, Spay, Microchip and License your pet. (Rabies & License are Law) Everything else is open to discussion on what ever you like
Clark County SPCA 937 925-6602
Clark County Dog Wardens 937-521-2140
Pros:
This is a fairly active page. There seems to be a decent amount of admin presence in discussions, in a good way. The discussions and posts have a very friendly and down home feel.
Cons:
Due to the "NO Drama" policy it seems like conversations don't get going too deeply. There seems to be a few too many advertisements and "spam" type posts.
Join if you:
Want a laid back group to post everyday things about life in the New Carlisle area, despise online drama, are into lost pets posts, HATE Issue 4 (the tax credit on the ballot this fall).
Membership: 795
Admins: Jeff Turner
This group is focused on alerting folks in Bethel Township and Park Layne to the possibility of suspicious behavior so that residents can take a proactive approach to stopping crime.
Pros:
The admin is a home security professional with police and K-9 unit training experience. New Carlisle's finest reporter and photographer, Andy Grimm of New Carlisle News, is an active participant.
Cons:
The group doesn't have too many members. It is also primarily focused on Park Layne and Township events, so New Carlisle and other local areas can sometimes be left out.
Join if you:
Enjoy car accidents, want to know anything about anyone walking down the street and what their fashion choices are, are a vigilante, don't have a police scanner.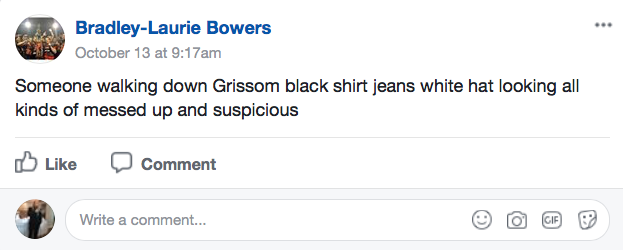 Membership: 4,890
Admins: Denise Cooper, Mikayla Lyons
This group is the ultimate buy, sell and trade group for New Carlisle. Almost anything you can imagine can be procured from this page, and for a nice price, too.
Pros: 
The page has thousands of people offering up great goods for low prices. They feature a once per day bump allowance to keep your items for sale at the top of the page a little longer. The admins have a zero tolerance approach to stolen property being posted.
Cons: 
Vulgar language and nudity are not allowed. Posts about direct sales and other advertising are not allowed, but that is only a con if you are a seller of those types of products.
Join if you:
Simply can't get enough rummage, want bargains on blue jeans with those glittery patterns sewn on the back pockets, can settle for last year's model instead of paying $1000 for the latest iPhone, seriously though, all this rummage needs to be seen to be believed.
So which page(s) are right for you? Did you find a new home for your New Carlisle social media needs? Did we leave out any important groups? Sound off in the comments and let us know.